The Universe Hangs On Sound – A Virtual Event (Part One) with STEVE GORN
With Steve Gorn
March 16, 2021
Donations to Sky Lake are genuinely appreciated!
Sky Lake presents Art and the Artist, a four-part series of personal dialogues investigating the mark of dharma on the artistic process.

Part One:  An exploration of sound as a synchronizing of heart and mind, investigating how music mingles with outer, inner and secret view. Steve Gorn plays Indian classical and contemporary world music on the bamboo flute joining traditional forms with the freshness of contemplative practice.
Leader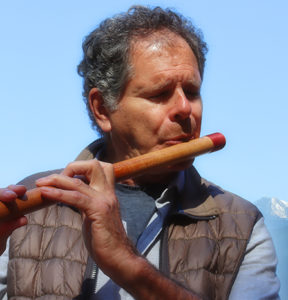 Steve Gorn
For over forty years Indian Classical Music and Buddhism have been the foundation practices for Steve Gorn.  As a student of Chogyam Trungpa Rinpoche and a Grammy winning musician, he has explored the mingling of these two disciplines; an ongoing enquiry into sound as a medium of awareness, and the transformative power of music. www.stevegorn.com
Learn more about Steve Gorn