White Tara Lung
With Acharya Arawana Hayashi
September 30, 2019
The lineage practice of White Tara, long popular in Kagyu and Nyingma communities, is particularly relied upon in times of domestic and community turmoil and disharmony, and when personal or family health is threatened. White Tara is a peaceful manifestation of the compassionate Tara, who is said to have emanated from the tears of Avalokiteshvara witnessing the suffering of beings. She is known for having seven eyes that see the suffering of beings, and she sends her compassionate energy to heal and comfort those who are in need. She also guards the long life of beings.
Acharya Arawana Hayashi offers the reading empowerment (lung) for the visualization practice of White Tara, along with commentary and a session of group practice. Receiving the lung authorizes all to do this practice in group settings and those who have taken the Refuge Vow to practice it individually. Sky Lake will be offering this practice on a regular basis, to be announced. 
Participants are encouraged to offer a Heart Gift to the preceptor. 
Leader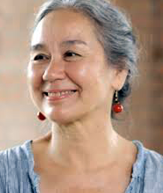 Acharya Arawana Hayashi
Arawana Hayashi's work as a choreographer, dancer and educator is deeply sourced in the teachings on art given by Chogyam Trungpa, Rinpoche and on her experience in collaborative improvisation. She currently heads the creation of Social Presencing Theater (SPT) for the Presencing Institute and is an Acharya (senior teacher) in Shambhala, a community that links individual basic goodness to the creating of "enlightened" society.
Learn more about Acharya Arawana Hayashi