Winter Weekthun: Dharma Art and Co-Creating Good Communities
With Acharya Arawana Hayashi, Jude Robison and Alexander deVaron
December 27, 2019 - January 3, 2020
Join us for our annual week-long meditation intensive, an opportunity to fully immerse oneself in mindfulness meditation. This week-long program is open to all, beginning and experienced meditators.
This retreat will provide time for participants to explore dharma, art and co-creating community. Trungpa Rinpoche gave teachings on dharma art as a vehicle to explore the playfulness and naturalness of the phenomenal world. How might the practices of meditative movement, voice, and visual expression support us in creating community?
In addition to daily meditation and art practices, participants can have individual meetings with meditation teachers. Some of the days will be in silence. There will be time to walk outdoors and enjoy our sense perceptions in the quiet and peaceful surroundings of Sky Lake.
Suggested reading: True Perception, the Path of Dharma Art by Chogyam Trungpa Rinpoche. If you have it, please bring the text with you.
***Please note: Our housing is completely full for this program, except for shrine room accommodations. You are welcome to register for that option or to book an airbnb nearby.
Leaders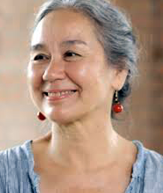 Acharya Arawana Hayashi
Arawana Hayashi's work as a choreographer, dancer and educator is deeply sourced in the teachings on art given by Chogyam Trungpa, Rinpoche and on her experience in collaborative improvisation. She currently heads the creation of Social Presencing Theater (SPT) for the Presencing Institute and is an Acharya (senior teacher) in Shambhala, a community that links individual basic goodness to the creating of "enlightened" society.
Learn more about Acharya Arawana Hayashi
Jude Robison
Jude Robison came to Buddhist practice in 1980 with a background in social activism, visual arts, theater and dance. She continues to integrate her passion for art and community empowerment through her dharma practice and teaching. A former co-director of Karme Choling, she has an MFA in Book Arts and Printmaking from the University of the Arts.
Learn more about Jude Robison
Alexander deVaron
For the last thirty years Alexander has been exploring and teaching the intersection of meditation practice, community and creativity. In addition to teaching in Shambhala, he has taught stress management programs for the Penn Program for Mindfulness, workshops at the Philadelphia Museum Art, and classes in meditation and resilience throughout the Philadelphia area. In 2010, Sakyong Mipham Rinpoche appointed him the Shastri (senior teacher) of the Philadelphia Shambhala Center. He teaches music theory, listening skills, and composition at Temple University.
Learn more about Alexander deVaron