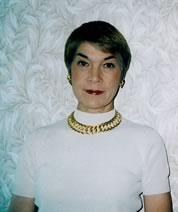 Marcia Wang Shibata was introduced to Buddhism and Ikebana by Chögyam Trungpa Rinpoche at Karme Chöling Shambhala Center in 1974. Chögyam Trungpa Rinpoche was an Ikebana Master from the Sogetsu School, the newest school of the flower tradition of Japan. From 1980 to 1985 Misses Wang Shibata studied flowers in Japan at the Ikenobo and Saga Misho School – both of them are the oldest, classical Ikebana schools.
She began teaching in the West in 1986. Her central interest in flower practice remains to transmit it as a meditative activity, not as a decorative form. Today Misses Wang Shibata teaches in the States and in Europe, where she and her students are developing a new school of Ikebana based on the teachings of Shambhala Buddhism.
They were given the blessings of Chögyam Trungpa Rinpoche's son and heir, Sakyong Mipham Rinpoche to begin the school in 2003. The school's name is Shambhala Kado Europe. Kado means "The Way of Flowers". Misses Wang Shibata remains a student herself and studies with a Sogetsu Master in Montreal, Canada, Mrs. Watanabe Sensei.