Open House: In Praise of Listening
With Christian McEwen
October 24, 2023
Open House:In Praise of Listening
a book reading event
with Christian McEwen
Most of us think of listening in fairly literal fashion: human beings listening (or not listening) to one another; the pleasure of attending to a familiar piece of music. But listening can have a far broader and more capacious meaning, moving out beyond the small apparatus of the ears to the hands or belly or enveloping spirit/mind. In her new book, In Praise of Listening Christian McEwen reflects on listening (silence, music, nature, prayer, &c.) in a series of thoughtful chapters, each one focused on a different theme. When an athlete speaks of "listening to his body," or a gardener describes herself as "listening to the land," when writers and artists explain that they are "listening" to their work-in-progress, they are using the word as she chooses to use it here — as an extended metaphor for openness and receptivity, rippling out from the self-centered human to the farthest reaches of the non-human world.
Books will be available for purchase!
Leader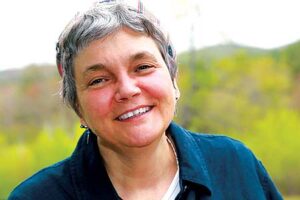 Christian McEwen
Christian McEwen is a writer, educator, and cultural activist. She has edited four anthologies and produced a video documentary, Tomboys!, and a play, Legal Tender: Women and the Secret Life of Money. Her books include, World Enough & Time: On Creativity and Slowing Down and Sparks from the Anvil: the Smith College Poetry Interviews. Christian grew up in the borders of Scotland and now lives in western Massachusetts. In Praise of Listening is her most recent book.
Learn more about Christian McEwen