Expressive Brush/ Making a Mark – A Virtual Event with BARBARA BASH
With Barbara Bash
May 18, 2021
Donations to Sky Lake are genuinely appreciated!
Sky Lake presents Art and the Artist, a four-part series of personal dialogues investigating the mark of dharma on the artistic process.

Part Three: How do we approach the page of our life? What is the experience of landing connecting and receiving insight? Following the brush the world is revealed. Barbara Bash is a calligraphic artist and practitioner of heaven, earth and human principles as they manifest in visual expression.
Leader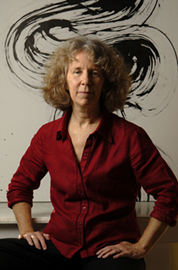 Barbara Bash
Barbara Bash is a calligraphic artist who has been exploring the mixing of Asian sensibility with Western art forms for many years. She creates group experiences of creative aliveness with brush, ink and simple ritual. She is a Shambhala meditation instructor and has collaborated with musicians, storytellers, and dancers in fresh forms of visual learning. Her circle brushstroke is the new Eileen Fisher Company mark. Website – barbarabash.com Visual blog – barbarabash.blogspot.com
Learn more about Barbara Bash