Family, Earth, Sky: Creating the Sacred House of Feathers
With Laura Simms and Cynthia Spencer
March 6 - 8, 2020
Through story, Dharma Art, drumming and natural exploration, families bring to life an epic story as traditional wisdom cultures have done since the earliest times. The House of Feathers is a myth of the Orinoco Peoples of the Amazon about the power of basic goodness. Throughout the weekend, the story will unfold and together we will create landscapes, dances and soundscapes culminating in the making of a sacred House of Feathers adorned with our own tales.
This program is open to children, parents, grandparents and caregivers of all ages. Please register early as space is limited. For any questions about program content, please contact Donna Stephens at [email protected] For questions about registration, housing, etc please contact [email protected] 
When you register, you will see options to choose your housing and then add more members of your family. The base tuition without housing is $175. Your first child is an additional $140, second is $110, third is $90, which is added to the $175 base amount. These prices include a $50 materials fee.
Leaders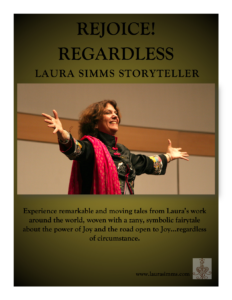 Laura Simms
Laura Simms is a long time student of Chögyam Trungpa, Rinpoche, and a senior dharma teacher and dharma art instructor. She is an internationally acclaimed storyteller, mediator, teaching artists and author advocating for compassionate action and restorative literature. Lauren's most recent book is OUR SECRET TERRITORY: The Essence of Storyteller (Sentient Books).
Learn more about Laura Simms