Vajrayana Don Season Retreat
With Acharya Christie Cashman
February 17 - 23, 2020
The vajrayana teachings are renowned for providing the strongest medicine in times of the greatest confusion. But it's also during these times that practices such as invoking the deity, resting in the nature of mind, or engaging in sacred perception can feel very remote. Throughout this week-long retreat, we will explore how wrathful, peaceful, and effortless vajrayana methods "touch the fruition," and thus remind us of our inherent wisdom. 
Practitioners of ngondro, Werma, mahamudra, Vajrayogini and Scorpion Seal are welcome. The program will include discussions with each group of practitioners, talks and personal interviews.
The protector chant sessions will include Pacifying the Turmoil of the Mamos, The Short Daily Vajrakilaya by Jamgön Mipham, and the Confession Liturgy for Reconciliation with the Jnanadevas.
The program counts toward all retreat requirements. Partial attendance is welcome—one may come for a day, partial day, or for talks.
Timothy Quigley will be assisting as Director of the Umdze Corps.
Discussion topics will include
Co-emergent wisdom: Making direct contact with confusion in order to liberate it

Heart message of Yeshe Tsogyal and Padmasambhava

Remembering our Vajrayana training as we near death

The Heart Sutra as the basis and protection for the Vajrayana

Awakening to luminosity and limitless perception through imagination
Prerequisites: Vajrayana Seminary or Sacred World Assembly
Non-vajrayana practitioners are welcome to join the program for the talks and practice sessions listed below. For Sky Lake Members: $10 per talk or $50 for all. Nonmembers: $25/talk or $125 for all. Practice sessions are free. If you would like to join, please email [email protected] to sign-up for sessions.
February 18th
9:00 AM:  Opening Chants with Mahayana Morning Liturgy: (For those who have taken the Bodhisattva Vow)
10:00 AM:  Heart Sutra and Realizing Emptiness
7:30 PM Movie: Enlightenment Guaranteed
February 19th
9:15 AM: Luminosity
11:00 AM White Tara practice. (Those who have taken refuge vows are welcome to stay for the lung (permission blessing) after the practice.
February 20th
9:15 AM: Yeshe Tsogyal and Padmasambhava
February 21st
9:15 AM: Self- Liberating Emotional Confusion
4:30 PM: Assisting Friends When They Die
7:30 Exercises: Assisting Friends When They Die
6:00 PM each day: Mamo Chants
Leader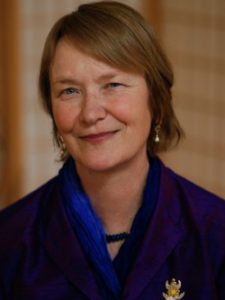 Acharya Christie Cashman
During the 17 years Acharya Cashman resided in Boulder, Colorado, she worked full-time in Trungpa Rinpoche's administration and taught a full range of courses from meditation intensives at Naropa University to Vajrayana sadhana classes. In 1987, when Acharya Cashman moved to Nova Scotia, she spent part of each year in solitary retreat to delve further into the study and practice of the Shambhala terma tradition and vajrayana sadhana practice. She worked in the areas of environmental protection and dispute resolution before serving as Shambhala Training International's Executive Director. She holds the acharya post on the Shambhala Care and Conduct Panel,…
Learn more about Acharya Christie Cashman