Qi Gong Level 3
With Sophie Léger
January 31 - February 2, 2020
The Daoist Qigong practices brought to us by Dr. Eva Wong constitute a path of training that cultivates a healthy body, a clear mind and an open heart. Ultimately, it dissolves the split between mind and body to allow us to live a fully engaged and creative life.
In Level 3, the internal energy aspects of the exercises and their healing properties become more salient and explicit.
During this weekend program, the students will learn the Hua Tu's Five Animal Form, which develop tendon and bone strength, help preserve generative energy, and increase agility and balance. This unique set of animal forms was developed by the legendary Han Dynasty physician Hua Tu. Also taught are the first part of the Immortals' Guide to Self-massage and Breath
Regulation, and Chen Xiyi's Red Phoenix Calisthenics. These systems combine gentle breath regulation with simple movements and self-massage to open blockages in the meridians, align the spinal column for better circulation of qi, and enhance tendon, bone, organ and muscular strength. Lastly, four more standing qigong postures from Wang Xiangzhai's Yiquan
System are also presented. Prerequisites Taoist Qigong Level 1-2, as taught by the lineage transmitted by Dr. Eva Wong.
Everyone who has taken Levels 1-2 is encouraged to come to Level 3. This includes those who have been doing little, or even none, of the earlier Qigong practices. The Qigong path is not strictly linear, and it is not to have achieved some mastery of Level 1-2 to move on to Level 3.
Leader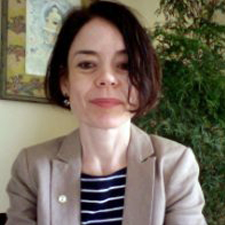 Sophie Léger
Sophie Léger is one of few individuals authorized and trained by Dr. Eva Wong to teach her Taoist Qigong lineages. Over the last 9 years, Sophie has traveled extensively, offering levels 1-2, 3, 4 and 5 to hundreds of people throughout North America and Europe. A student of Sakyong Mipham Rinpoche since 1990, Sophie also has been a certified meditation instructor and teacher in the Shambhala Buddhist tradition for over 20 years. She currently works for Kalapa Media as Director of Translations and lives in Massachusetts.
Learn more about Sophie Léger