Moonbeams of Mahamudra: The Wisdom of the Dakpo Kagyu
With Elizabeth Callahan
September 13 - 15, 2019
 "Leaving the mind in its natural condition without meditating is shamatha. 
Not being distracted from the nature of mind is vipashyanā. 
Nonmeditation and nondistraction becoming of equal taste contains all the points related to unifying shamatha and vipashyanā." —Dakpo Tashi Namgyal in Moonbeams of Meditation, translated by Elizabeth Callahan
Mahamudra shamatha and vipashyana are the core of the Dakpo Kagyu practice tradition. In this weekend for vajrayana practitioners, Elizabeth will give talks on the key points of mahamudra shamatha and vipashyana, based on Dakpo Tashi Namgyal's Moonbeams of Mahamudra, and will lead participants in guided mahamudra meditation. Group discussion will also provide an opportunity to further examine and reflect upon our practice. Lujong practice will be offered before breakfast, and we will take advantage of Sky Lake's nature trails for walking meditation, weather permitting.
This is a restricted retreat for vajrayana students who have received pointing out instructions. Please email with any questions about whether you have fulfilled the prerequisites for this program.
Leader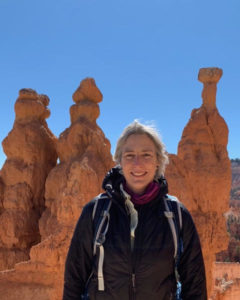 Elizabeth Callahan
Elizabeth Callahan is a Tibetan translator of the Kagyu tradition. She completed two three-year retreats under the guidance of Kalu Rinpoche, is a student of Khenpo Tsultrim Gyamtso Rinpoche, and has been a Tsadra Foundation Translation Fellow since 2002.
Learn more about Elizabeth Callahan